Dental Articles For Smartphones
www.DentistryDentistsDental.mobi
DentistryDentistsDental.mobi™ Website publishes dental articles to be read on BlackBerries, iPhones and other Smartphones.
---
About Finding a Right Cosmetic Dentist.
Finding a Toronto Cosmetic Dentist, who is going to help you correct some oral problems that you cannot clearly define, can be a daunting task. One of the biggest sources of confusion is usually triggered by the dentist's title and his trade name, expressing or not his specialty. How is a person supposed to tell the difference between dental services that are administered by a family dentist and a cosmetic or an aesthetic dentist?
Family dentists, as the name say, are responsible for minding the general well-being of members of family. A family includes the very young ones or teenagers. The adults can be of all ages and therefore might require different dental needs associated with their age. In addition to dental cleaning, the family dentist usually makes sure that there are no signs that severe dental health problem is not starting to develop. The family dentist does some simple and general procedures. He is just like your family doctor. When the person's smile needs some additional care, the family dentist will usually provide the patient with names of a couple of dentists in the area, who are better equipped to handle the problem. There are number of special dental categories that you might be familiar with. Orthodontist, dental surgeon, periodontist, lesser known dental professional endodontist and the cosmetic dentist. Lately a term being used is aesthetic dentist.
Cosmetic or an Aesthetic dentist will monitor the health of person's smile, but they will also do dental procedures that improve the appearance of the person's smile, which gives their self-esteem a healthy boost. Since they are considered specialists, the cosmetic dentists generally have more training than a family dentist. You might have seen the wall in a dental office full of silver and gold colored plaques given to the dentists for attending different courses. They are certainly designed to impress patients walking to the clinic. When you are concern with your appearance and would like to improve, a discussion with your family dentists should be a first step. If you do not have a family dentist, then search engines search for a cosmetic or aesthetic dentistry in your area should be next step.
You might notice that most of cosmetic dentists or specialists are located in Downtown cores of cities and the family dentists in the suburbs. Of course there are many exceptions, but the right location for any business is important! Many cosmetic dental procedures are not covered fully by the insurance plans, therefore best specialists prefer to be located in the centres and downtown business areas. When you visit Web site of a cosmetic dentist, you should look for his portfolio of successful cosmetic cases before and after. Each case should have a proper description that will provide you with pertinent information, but also a guarantee that all cases are real, done by the dentist and not a clipart gallery.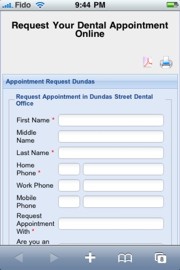 You should be able to request your initial consultation online, even when the office is closed. A cosmetic dentist that caters to the downtown business people and technology savvy professional crowd will let you fill and submit your Health Questionnaire Online, well before coming to the dental office for your first visit. There is nothing more stressful than waiting in the dental office and be handed an old-fashioned clipboard with a pen and asked to fill out important information about you and your health.
The cosmetic dentist's specialties include closing the gaps or straightening crooked teeth, providing dental whitening, dental implants, dental veneers, crowns and bridges. A well-qualified downtown implant dentist and will help fill any gaps that might exist in the individual's smile. These are just some dental procedures designed to enhance your appearance, smile and confidence in your professional life.
Accepting a complimentary consultation offered by a cosmetic dentist of your choice can be your starting point. No respected dentist will pressure you to accept any recommendation that he or she might make. Financial options are other important aspect of cosmetic procedure that you should be able to discuss freely with the dentist or an office administrator.
What is the smile makover? Smile makeovers is the latest concept gaining popularity with connection to TV shows and movie stars. Behind the sophisticated sounding name is a simple rejuvenation of your smile by more than one cosmetic procedure. Any qualified cosmetic dentist can be called a smile makeover specialist. The use of two or more dental cosmetic procedures will provide better smile results. Smile makeovers are not just for stars, but they are affordable to the majority of downtown business people, their families and generally to those who are conscious of their appearance
Back to more articles.... "Click here" link »
---