DentistryDentistsDental.mobi

is a Mobile Internet Guide of Dental Clinics interested in reaching and communicating with their patients and potential patients via mobile communication; BlackBerry, iPhones and other Internet enabled phones!

Dentistry Dentists Dental .mobi

Website provides full package of services to dental professionals:
Are you a Dentist, Orthodontists, Periodontists or Oral Surgeon & Maxillofacial Surgeon? List your profession on our relevant Dental Mobile Web site, Stay Open 24/7 and make it easy for public to communicate with you, using their mobile devices 24/7. View the Featured Mobile Dental Web sites listed below!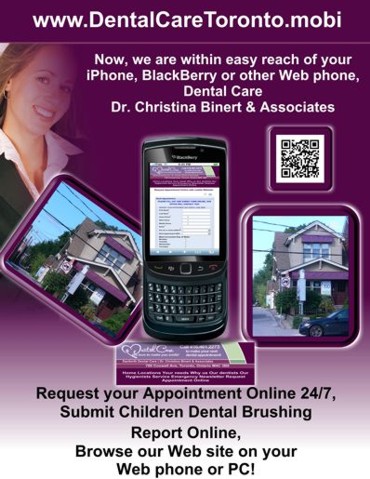 The questions marked ( * ) are mandatory
Featured Mobile Dental Web sites in Toronto:
If you have a Smartphone, there is a dentist in Toronto with mobile Web site for Smartphones and the patients' convenience. Uniqueness of all Mobile Websites is with embedded eForms to allow easy patient-to-dentist communication 24/7. eForms are Secure Database Forms Online.
---
Dr. Muyal and Associates Dental Care located on Dundas Street West at Bloor Street in Toronto www.DrMuyalDentistry.mobi is mobile Dental Web site for Web phones.
---
---
Dental Care Group™ on Coxwell Avenue at Danforth Ave is a Family and General Dentistry with special care for children. View their mobile Web site www.DentalCareToronto.mobi. Request Appointment Online 24/7 and children love the special Dental Brushing Report Online.
---
Residents of Thornhill in Ontario can Request Dental Appointments and Submit their Health Form Online 24/4 with a Dental Care at Yonge and Clark Street. Dr. Muyal & Associates www.ThorhillDental.mobi is mobile Dental Web site for convenience of Thornhill patients.
---