Your New Smile at Thornhill Dental Care

Mobile Web site www.ThornhillDental.mobi.
Family and Cosmetic Dentistry in Thornhill (Yonge and Clark Dental Care)
For over 30 years, Dr. Muyal & Associates Dental Care have been committed to giving you more to smile about. From offering the latest procedures aimed at helping you to enjoy a whiter and more beautiful smile ... to affordable, complete dental care... to new sedation options to help calm and relax the most anxious patients, allowing them to enjoy dentistry asleep.
Today, with two convenient locations, the latest equipment & newest products and a team of highly trained staff, Dr. Muyal & Associates dentists continue its dedication to treating patients quickly and efficiently in warm and caring facilities. When searching among Thornhill Dentists, find and come to our Thornhill Dental Care.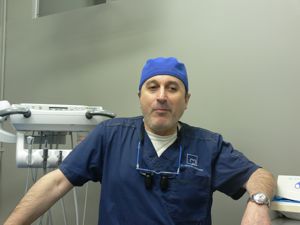 Dr. Jaime Muyal is a Cosmetic Dentist Name, in the above! Photo collage of Dr. Muyal's EMA crowns on the lower image.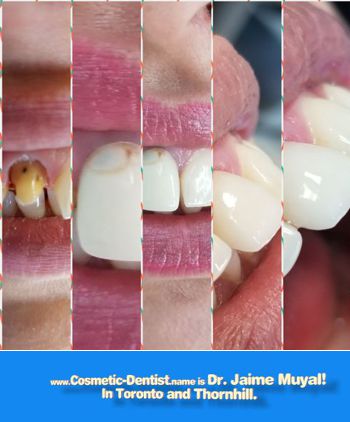 Dr. Jaime Muyal - Thornhill Family and Cosmetic Dentist
While our main focus is the beauty of your smile, we are deeply committed to your overall dental health care. That is why at Thornhill Dental Care, we emphasize the importance of thorough exams (with x-rays when necessary), checking the overall health of your gums and teeth and recommend an ongoing preventative maintenance program of cleaning and care to prevent dental disease.
All dental care is directed by Dr. Jaime Muyal, BSc, D.D.S. Dr Muyal received his Doctor of Dental Surgery designation from the University of Toronto in 1984. Since first practicing dentistry, Dr. Muyal, Dentist has continued to advance his training and standing in the dental field. This includes advanced surgical and prosthetic training in implantology and advanced training in IV sedation. In addition, Dr. Muyal is a fellow of the International Congress of Oral Implantology.
Dental procedures with Thornhill Dentists
Cosmetic Dentistry
Veneers, Crowns & Bridges
Teeth Whitening
Implants
Oral Sedation
Complete Dental Care
Wisdom Teeth Removal
Request Your Dental Appointment With Thornhill Dentist Online
First-time patients;
you may fill out and submit
your Health Information Form Online,
prior to your first visit with Dr. Muayl Dental Care!
The questions marked ( * ) are mandatory