Dr. Muyal Thornhill Dental Care - Web Special

Mobile Web site www.ThornhillDental.mobi.
Complimentary Cosmetic Assessment at Thornhill Dental Care.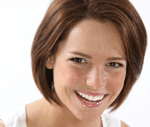 Includes: photos/digital x-rays. consultation with Dr. Muyal and written smile evaluation (regular value $250) with a full hygiene visit at only $135.
Request Your Dental Appointment Online
First-time patients;
you may fill out and submit
your Health Information Form Online,
prior to your first visit with Dr. Muayl Dental Care!
The questions marked ( * ) are mandatory