Dental Veneers at Toronto Dental Care.

Mobile Web site www.MuyalDentalCare.mobi.
If your teeth are stained, broken, or shaped in a way that is not pleasing to you, then you may want to talk to Dr. Muyal about veneers to restore your smile's beauty.
Veneers are paper-thin, custom-made coverings that conceal the front and side surface of your tooth, much like a mask or an artificial fingernail.
While they are not suitable for every patient, veneers are a cosmetic option for a variety of dental conditions of the front teeth including:
Diastemas- spaces between the teeth
Broken or chipped teeth
Unsightly, stained or washed out fillings
Permanently stained or discoloured teeth
Misshapen or crooked teeth
The decision to enhance your smile with porcelain veneers is a very personal one, but even a subtle change can make an exceptional difference in the way you look and feel.
Ask Dr. Muyal if veneers will help achieve your desired effect and give your teeth a "smilelift."
Veneers Before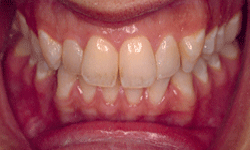 Veneers After