Why choose on the Danforth, Dental Care Group™?
There are many reasons to choose on the Danforth, Dental Care Group™; our dedicated and experienced team truly care about making you smile. It's not just a slogan, it's true: we love to make you smile. We do this by giving you the preventive, restorative, cosmetic and emergency care you need.
If you are looking for a neighbourhood dental team you can rely on to care for your needs, call us for your next appointment. We're here ...
To help you smile more confidently:
A great smile can open doors for you - in both your personal and professional life. Our dental team can give you that attractive smile through a variety of procedures.(link to cosmetic services)
To prevent emergencies:
We offer our patients a full range of restorative services and we work with our patients to achieve and maintain healthy gums.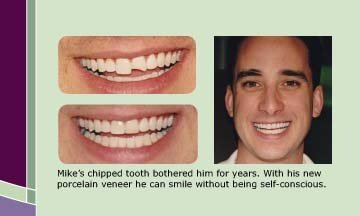 Dr. Binert-Miller Dentistry Professional Corporation a.k.a.
Dental Care Group™